"Saatva Pillow Review: The Key to a Blissful Night's Sleep"
Saatva Pillow is the most popular pillow on the market. Here I will describe about the benefit and feature of the Saatva Pillow.
When it comes to achieving a good night's sleep, the right pillow can make all the difference. Saatva, a reputable name in the mattress and bedding industry, offers a range of pillows to cater to various sleep preferences. In this review, we'll dive into the Saatva Pillow, a popular choice among sleep enthusiasts. We'll explore its features, materials, comfort, and whether it lives up to the high standards set by Saatva.
Materials and Construction
The Saatva Pillow is a carefully crafted product designed to provide exceptional comfort and support. It features a dual-layer design, consisting of a 100% organic cotton cover and an inner core made of shredded Talalay latex. This combination of materials offers both softness and resilience.
The use of Talalay latex is a notable feature of the Saatva Pillow. Talalay latex is known for its exceptional breathability, durability, and hypoallergenic properties. It provides consistent support and maintains its shape over time. The latex is also sourced sustainably, aligning with Saatva's commitment to eco-friendly materials. Lets see more about the saatava pillow.
Firmness Options
One of the standout features of the Saatva Pillow is its adjustable loft and firmness. You can customize the pillow's feel by adding or removing the shredded latex filling. This adaptability allows you to achieve the perfect level of support for your sleep style, whether you're a back, side, or stomach sleeper.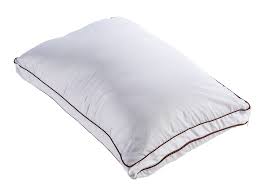 Comfort and Support
When it comes to comfort, the Saatva Pillow truly shines. The latex core offers an excellent balance between softness and support. It contours to your head and neck, providing the necessary support to keep your spine aligned. This can be particularly beneficial for those who suffer from neck or back pain.
Furthermore, the Talalay latex is highly breathable, which helps regulate temperature and prevents the pillow from becoming overly warm during the night. This feature is a significant advantage for hot sleepers who often struggle with traditional memory foam pillows.
Hypoallergenic and Eco-Friendly
For individuals with allergies or environmental concerns, the Saatva Pillow ticks the right boxes. The use of organic cotton for the cover and hypoallergenic Talalay latex minimizes the risk of allergens and irritants. The latex is also free from harmful chemicals and synthetic materials.
Durability and Maintenance
Saatva is known for its high-quality products, and the Saatva Pillow is no exception. The Talalay latex core is exceptionally durable and resistant to sagging or flattening. The organic cotton cover is removable and machine-washable, making maintenance a breeze.
Price and Warranty
While the Saatva Pillow is a premium product, it's priced competitively given the quality of materials and construction. Saatva offers a 45-day home trial, allowing you to test the pillow in your own sleeping environment. The company also provides a 1-year warranty, ensuring peace of mind for your purchase.
Final Verdict
In conclusion, the Saatva Pillow lives up to the high expectations set by Saatva's reputation. Its unique blend of organic materials, adjustable loft, and Talalay latex core offers a truly luxurious and comfortable sleeping experience. Whether you're a back, side, or stomach sleeper, the Saatva Pillow's customizable firmness makes it a versatile choice. Additionally, its hypoallergenic and eco-friendly design sets it apart in the market.
If you're in search of a premium pillow that delivers on both comfort and support, the Saatva Pillow is undoubtedly worth considering. With its excellent craftsmanship and commitment to quality, it may be the key to unlocking a blissful night's sleep.
Thanks for read the article. Hope you have got a basic idea by this article. You can choose your best saatava pillow. Best wishes for you.