To make a body pillow, you will need fabric, stuffing, a sewing machine, and basic sewing skills. Creating your own body pillow allows you to customize its size, shape, and firmness to meet your personal preferences and needs.
With a few simple steps, you can make a comfortable and supportive body pillow that will enhance your sleep and relaxation experience. By following these steps, you can easily create a body pillow that meets your specific requirements and provides you with the comfort and support you desire.
So, grab your materials and get ready to create your very own DIY body pillow.
Materials Needed For Making A Body Pillow
Materials Needed for Making a Body Pillow:
Fabric
Thread
Sewing machine
Pins
Scissors
Pillow stuffing
Making a body pillow can be a fun and rewarding project. To get started, you will need to gather the necessary materials. First, choose a fabric that is soft and durable. Cotton or flannel works well for a body pillow. Next, you will need thread that matches the color of your fabric. A sewing machine is essential for stitching the fabric together. Make sure to have plenty of pins to hold the fabric in place while sewing. Additionally, a good pair of scissors will be needed for cutting out the fabric. Finally, you will need pillow stuffing to fill your body pillow and give it a comfortable feel. Once you have all the materials ready, you can begin sewing your body pillow."
Choosing The Right Fabric For Your Body Pillow
When making a body pillow, selecting the appropriate fabric is crucial to ensure both durability and comfort. Several factors should be considered when choosing the fabric, including its texture, breathability, and ease of maintenance.
| Fabric Options for Body Pillows | Factors to Consider | Recommended Fabric Types |
| --- | --- | --- |
| Cotton | Soft, breathable, easy to clean | 100% cotton, organic cotton |
| Microfiber | Durable, hypoallergenic, stain-resistant | Microfiber blends, polyester microfiber |
| Bamboo | Antibacterial, moisture-wicking, eco-friendly | Bamboo viscose, bamboo cotton blend |
| Satin | Smooth, luxurious, cooling | 100% polyester satin |
Considering your personal preferences and any specific requirements, carefully choose the fabric that aligns with your needs. Whether it's the softness of cotton, the durability of microfiber, the eco-friendliness of bamboo, or the silky feel of satin, the right fabric can significantly enhance your body pillow experience.
Measuring And Cutting The Fabric
In order to make a body pillow, it is crucial to first measure and cut the fabric accurately. This ensures that the pillow will be the correct size and shape for maximum comfort. Begin by taking body measurements to determine the desired pillow size. Measure the length and width of the body, taking into consideration any specific preferences for the pillow's dimensions.
Based on these measurements, calculate the fabric dimensions needed for the body pillow. Use the measurements as a guideline to determine the required length and width of fabric. It is advisable to add an extra inch on each side for seam allowances.
Once the fabric dimensions have been determined, it is time to cut the fabric accurately. Use fabric shears or a rotary cutter to cut the fabric according to the calculated dimensions. Take care to follow the measurements precisely, ensuring straight and clean cuts.
By measuring and cutting the fabric carefully, you can create a properly sized body pillow that will provide optimal comfort and support.
Sewing The Body Pillow
Sewing the body pillow is a straightforward process that can be done at home with basic sewing skills. To begin, you will need to prepare the fabric for sewing by cutting it into two identical rectangles of the desired size. Next, fold the fabric in half with the right sides facing each other and sew along three sides, leaving one short end open.
Once the pillowcase is sewn, turn it right side out and insert the pillow stuffing. This can be done by carefully pushing the stuffing into the open end of the pillowcase, ensuring that it is evenly distributed throughout.
Finally, close the open end securely by folding the raw edges inward and sew it shut using a slip stitch or a sewing machine. Make sure to reinforce the stitches at the corners to prevent any openings.
Customizing The Body Pillow
When making a body pillow, adding decorative elements can elevate its overall look and make it unique. Embellishing with buttons or zippers is one way to add a touch of style. Choose buttons in various colors and designs to match the fabric of your pillow. Sew them securely onto the surface, either in a pattern or randomly for a whimsical effect. Alternatively, you can include a zipper at one end of the pillow, allowing you to change the cover easily.
Personalizing with embroidery or applique is another great option. Embroidering a name, initials, or a design onto the pillow can make it a special gift for someone. You can also use applique techniques by cutting out fabric shapes and sewing them onto the pillow surface. This allows you to create intricate designs and add texture to your body pillow.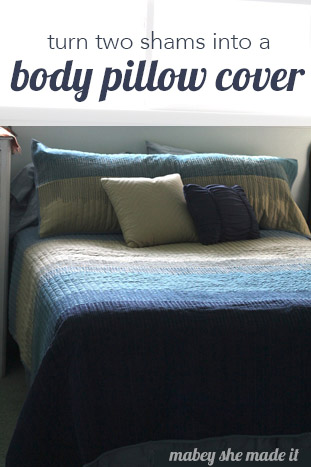 Credit: www.mabeyshemadeit.com
Caring For Your Body Pillow
Washing and drying instructions: To keep your body pillow in pristine condition, it is essential to follow proper washing and drying techniques. Check the manufacturer's instructions if available. In most cases, body pillows can be machine washed using a gentle cycle with mild detergent. Avoid using bleach or harsh chemicals as they can damage the fabric. After washing, make sure to thoroughly rinse to remove any soap residue. When it comes to drying, air drying is often recommended to prevent potential shrinkage or deformation. However, if you need to use a dryer, select a low heat setting and use dryer balls or clean tennis balls to help fluff up the pillow while it dries.
Tips for keeping the pillow clean and fresh:
Regularly wash your pillowcase or use a removable cover to protect the body pillow from dirt, oils, and sweat.
Consider placing a pillow protector between the pillow and the pillowcase for an extra layer of protection.
Spot clean any spills or stains promptly using a mild detergent and a cloth.
Ensure your body pillow is completely dry before putting it back into use to prevent the growth of mold or mildew.
Storing the body pillow when not in use: When you're not using your body pillow, proper storage can help prolong its lifespan. Here are a few tips:
Store the pillow in a clean, dry area away from direct sunlight and moisture.
Avoid placing heavy objects on top of the pillow, as this may cause it to lose its shape.
Consider using a breathable storage bag to protect the pillow from dust and dirt.
Fluff and reshape the pillow periodically when stored to maintain its original form.
Benefits Of Using A Body Pillow
Improved spinal alignment: A body pillow provides firm support along the entire length of the body, promoting proper spinal alignment while you sleep. This helps alleviate back, neck, and hip pain caused by poor posture or pressure points. The firmness of the pillow keeps the spine in a neutral position, reducing strain and discomfort.
Enhanced comfort during sleep: The soft and cushiony nature of a body pillow offers a cozy sleeping surface. It contours to your body, cradling you in a comfortable position. By hugging the pillow, you experience a sense of security and ease, leading to better quality sleep and refreshed mornings.
Relief from pregnancy discomfort: Expectant mothers often struggle with sleep due to their changing body shape. A body pillow can be a game-changer during pregnancy, as it provides support to the abdomen, hips, and lower back. This helps relieve pressure on these areas, reducing pain and discomfort.
Supporting various sleep positions: Whether you prefer to sleep on your side, back, or stomach, a body pillow can cater to various sleep positions. By placing the pillow strategically, you can maintain correct spinal alignment and reduce strain on joints, muscles, and pressure points, hence ensuring a more restful slumber.
Frequently Asked Questions Of How To Make A Body Pillow,
What Are Body Pillows Filled With?
Body pillows are filled with materials like polyester fiber, memory foam, or microbeads.
How Much Fabric Do I Need To Make A Body Pillow?
To make a body pillow, you'll need around 2 to 4 yards of fabric, depending on the desired length and width.
How Do You Make A Body Pillowcase?
To make a body pillowcase, start by measuring and cutting fabric to fit your pillow, leaving extra for seams. Next, fold the fabric in half inside out and sew along the edges, leaving an opening. Turn the case right side out and insert the pillow.
Finally, sew the opening closed.
Is It Safe To Sleep With A Body Pillow?
Sleeping with a body pillow is generally safe and offers various benefits. It improves spinal alignment, reduces pressure on joints, alleviates pain, and promotes better sleep quality. However, individual comfort levels may vary, so it's important to find the right position and pillow size that suits you.
Conclusion
Creating your own body pillow is a rewarding and budget-friendly project that can provide a comfortable and customized sleep experience. By following the step-by-step instructions outlined in this guide, you can unleash your creativity and enjoy the benefits of a personalized body pillow.
So, gather your materials, unleash your inner DIY enthusiast, and get ready to indulge in relaxing nights of restful sleep with your very own handmade body pillow.
{ "@context": "https://schema.org", "@type": "FAQPage", "mainEntity": [ { "@type": "Question", "name": "What are body pillows filled with?", "acceptedAnswer": { "@type": "Answer", "text": "Body pillows are filled with materials like polyester fiber, memory foam, or microbeads." } } , { "@type": "Question", "name": "How much fabric do I need to make a body pillow?", "acceptedAnswer": { "@type": "Answer", "text": "To make a body pillow, you'll need around 2 to 4 yards of fabric, depending on the desired length and width." } } , { "@type": "Question", "name": "How do you make a body pillowcase?", "acceptedAnswer": { "@type": "Answer", "text": "To make a body pillowcase, start by measuring and cutting fabric to fit your pillow, leaving extra for seams. Next, fold the fabric in half inside out and sew along the edges, leaving an opening. Turn the case right side out and insert the pillow. Finally, sew the opening closed." } } , { "@type": "Question", "name": "Is it safe to sleep with a body pillow?", "acceptedAnswer": { "@type": "Answer", "text": "Sleeping with a body pillow is generally safe and offers various benefits. It improves spinal alignment, reduces pressure on joints, alleviates pain, and promotes better sleep quality. However, individual comfort levels may vary, so it's important to find the right position and pillow size that suits you." } } ] }