To measure a throw pillow, use a tape measure to determine the dimensions accurately. Throw pillows add a pop of color, comfort, and style to any space.
Whether you're looking to purchase new pillow covers or determine the right size for your current pillows, it's essential to know how to measure them correctly. By using a tape measure, you can easily determine the dimensions of your throw pillows.
This ensures that you choose the right size covers or replacement pillows. Properly measuring your throw pillows allows you to find the perfect fit and enhance the overall aesthetics of your living room, bedroom, or outdoor seating area. We will guide you through the process of measuring throw pillows accurately.
Why Measuring Throw Pillows Is Essential For Decorating
Measuring a throw pillow is an essential step in the decorating process. Different sizes serve different purposes, and finding the right size can greatly enhance the overall aesthetic of your space. When it comes to achieving the desired aesthetic, measurements are crucial. Choosing the wrong size can throw off the balance and symmetry of your arrangement. Additionally, proper fit and functionality are important. A pillow that is too small can look lost and insignificant on a large piece of furniture, while a pillow that is too big can overwhelm the space. Moreover, a well-fitted pillow provides optimal comfort and support. By measuring your throw pillows accurately, you can ensure that every piece fits seamlessly into your design scheme, creating a cohesive and visually pleasing arrangement.
Step-by-step Guide To Measuring A Throw Pillow
Choose the right measuring tool: Use a tape measure or ruler for accurate measurements.
Measuring the width and length: Lay the pillow flat and measure from edge to edge to determine the width and length of the pillow.
Determining the thickness and fill: If the pillow is evenly filled, measure the height using the tape measure or ruler. If the pillow is not evenly filled, place it on a flat surface and measure from the highest point to the surface.
Accurately record the measurements: Write down the measurements in inches or centimeters, including the width, length, and height. These measurements will help you find the right pillow cover or insert.
Measuring throw pillows accurately is essential when looking for the perfect cover or insert. By following these steps and recording the measurements correctly, you can ensure a proper fit for your throw pillows.
Understanding Standard Sizing For Throw Pillows
Throw pillows are a great way to add comfort and style to any living space. To ensure the perfect fit, it's important to know how to measure a throw pillow accurately.
| Pillow Size | Typical Use |
| --- | --- |
| 16×16 inches | Great for small chairs or as an accent pillow |
| 18×18 inches | The most popular size, suitable for sofas and larger chairs |
| 20×20 inches | Ideal for larger sofas and as a statement piece |
| 22×22 inches | Perfect for oversized furniture and creating a plush look |
Identifying the ideal size for specific furniture pieces:
When choosing the right pillow size, consider the dimensions of the furniture it will be placed on. A larger pillow may complement a larger sofa, while smaller chairs may require smaller pillows for proportional balance.
The size of the throw pillow should also align with the overall design aesthetic of the room. Smaller pillows can create a more minimalist look, while larger pillows can make a bold statement. Additionally, consider the proportions of other decorative elements in the room to achieve a harmonious and visually pleasing arrangement.
Extra Tips For Measuring Throw Pillows
When measuring a throw pillow, it is important to consider several factors to ensure an accurate fit. Begin by measuring the pillow cover from seam to seam, taking note of the width, height, and depth. Allowance for seam allowances should be factored in when determining the insert size. For square or rectangular pillows, use the dimensions of the pillow cover for the insert size. Adjustments may need to be made for different shapes such as round or bolster pillows. Irregularly shaped pillows require more careful measurement, taking into account any protruding elements or unique curves. Remember to measure in inches or centimeters, depending on your preference, and record the measurements accurately to simplify the process. By following these guidelines, you will be able to measure throw pillows with precision and ensure a perfect fit for your home decor.
Exploring Pillow Filling Options
When it comes to measuring a throw pillow, it is essential to understand the different types of pillow fillings and their characteristics. This knowledge will help you choose the right size and shape for your specific needs.
Three common options for pillow fillings include polyester, down, and foam. Polyester fillings are affordable and easy to maintain, but they may flatten over time. Down fillings provide a luxurious feel and excellent support, but they are more expensive and require regular fluffing. Foam fillings, such as memory foam, contour to your body shape and provide excellent support, but they may retain heat.
When measuring a pillow filled with polyester or down, it is crucial to consider that the fillings will compress under pressure. Use a soft measuring tape and measure the pillow from seam to seam, both horizontally and vertically, while gently flattening it. For foam-filled pillows, measure the pillow in its natural shape without compressing it.
Determining The Suitable Throw Pillow Size For Your Space
Determining the suitable throw pillow size for your space involves measuring the furniture area for throw pillow placement. Start by measuring the width and height of your furniture piece, such as a sofa or chair. Take note of the dimensions and consider the desired look you want to achieve.
To balance the pillow size with the furniture dimensions, you'll want to choose a size that complements the scale of your furniture. For smaller furniture pieces, opt for smaller throw pillows, while larger furniture can accommodate larger pillows. Additionally, consider the thickness of the pillows to ensure they provide enough support.
When selecting throw pillows, consider comfort and functionality. Choose pillows with a durable and comfortable filling, such as foam or down. Also, think about the purpose of the pillows. Will they be used for decoration or for additional support? This will help you determine the ideal size and shape for your throw pillows.
Incorporating Different Throw Pillow Sizes And Shapes In Your Decor
Throw pillows are a great way to add style and personality to your home decor. When it comes to incorporating different throw pillow sizes and shapes in your decor, layering techniques can help create depth and visual interest. Mixing and matching shapes, such as square, rectangular, and round pillows, can add variety and texture to your space. Additionally, using diverse pillow sizes can create a cohesive look. Consider combining larger pillows with smaller ones to create a layered effect. You can also play with different patterns, textures, and colors to make a statement. Remember to consider the scale of your furniture and the overall style of your room when choosing throw pillow sizes and shapes. By following these tips, you can easily measure a throw pillow and create a stylish and inviting space.
Maintaining Consistency In Measuring Throw Pillows
Regularly assessing and updating measurements is crucial when it comes to ensuring a perfect fit for your throw pillows. By storing accurate measurements for future reference, you can easily replace or purchase new pillows that match the desired size.
One way to maintain consistency is by incorporating standard sizes across different spaces in your home. This means determining the ideal measurements for various types of pillows, such as square, rectangular, or bolster pillows, and using these measurements as a reference when buying or making new ones.
| Throw Pillow Type | Ideal Measurements (in inches) |
| --- | --- |
| Square Pillow | 16×16, 18×18, 20×20 |
| Rectangular Pillow | 12×20, 12×24, 14×26 |
| Bolster Pillow | Diameter: 6 inches, Length: 16-36 inches |
By following these guidelines and regularly reassessing your measurements, you can maintain consistency in the size and appearance of your throw pillows, enhancing the overall aesthetic of your space.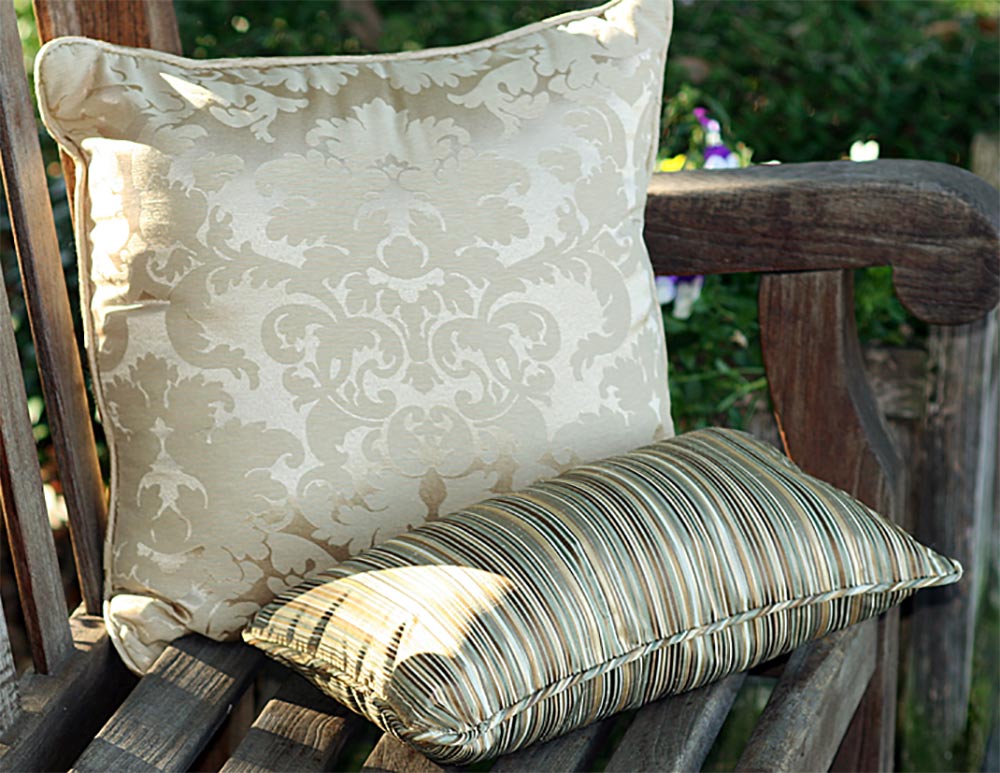 Credit: www.cushionsource.com
Frequently Asked Questions Of How To Measure A Throw Pillow,
How Do I Know What Size My Throw Pillows Are?
To determine the size of your throw pillows, measure the dimensions of the pillow cover. Use a measuring tape to measure the length and width of the cover in inches. This will give you the accurate size of your throw pillows.
How Do You Measure The Throw Pillow That You Want To Make?
To measure the throw pillow you want to make, use a measuring tape and take the dimensions of the pillow cover or insert. Measure the width, length, and height accurately to ensure a perfect fit.
What Size Insert For A 18×18 Pillow Cover?
The recommended insert size for an 18×18 pillow cover is also 18×18.
How Are Bed Pillows Measured?
Bed pillows are measured by their dimensions, typically in inches. The standard measurements are 20 inches by 26 inches for standard size, 20 inches by 30 inches for queen size, and 20 inches by 36 inches for king size pillows.
Conclusion
To wrap it up, measuring a throw pillow is a simple yet crucial step to ensure the perfect fit and aesthetic appeal for your space. By following the step-by-step guide outlined in this blog post, you can accurately measure your throw pillows and make informed decisions when it comes to purchasing or styling them.
Remember, precise measurements lead to effortless coordination and a harmonious ambiance in your home. So, go ahead and measure those throw pillows with confidence!
{ "@context": "https://schema.org", "@type": "FAQPage", "mainEntity": [ { "@type": "Question", "name": "How do I know what size my throw pillows are?", "acceptedAnswer": { "@type": "Answer", "text": "To determine the size of your throw pillows, measure the dimensions of the pillow cover. Use a measuring tape to measure the length and width of the cover in inches. This will give you the accurate size of your throw pillows." } } , { "@type": "Question", "name": "How do you measure the throw pillow that you want to make?", "acceptedAnswer": { "@type": "Answer", "text": "To measure the throw pillow you want to make, use a measuring tape and take the dimensions of the pillow cover or insert. Measure the width, length, and height accurately to ensure a perfect fit." } } , { "@type": "Question", "name": "What size insert for a 18×18 pillow cover?", "acceptedAnswer": { "@type": "Answer", "text": "The recommended insert size for an 18×18 pillow cover is also 18×18." } } , { "@type": "Question", "name": "How are bed pillows measured?", "acceptedAnswer": { "@type": "Answer", "text": "Bed pillows are measured by their dimensions, typically in inches. The standard measurements are 20 inches by 26 inches for standard size, 20 inches by 30 inches for queen size, and 20 inches by 36 inches for king size pillows." } } ] }