Introduction
A good night's sleep is essential for our physical and mental well-being, and the right pillow can make all the difference. While many people are familiar with traditional pillows made from materials like memory foam and feathers, there's a hidden gem in the world of sleep accessories that is gaining popularity: the buckwheat pillow. Buckwheat pillows offer a unique blend of comfort and support that has made them a favorite among those in the know. In this article, we'll explore the benefits of buckwheat pillows, how they work, and why they might be the perfect choice for your sleep needs.
What Is a Buckwheat Pillow?
A buckwheat pillow is the most comfortable, look nice ,popularity in the market than different type of pillows.
A buckwheat pillow, also known as a sobakawa pillow, is a pillow filled with the hulls of buckwheat seeds. These small, triangular-shaped hulls are the outer shells of the buckwheat kernel and are an eco-friendly, sustainable, and natural pillow filling. The concept of using buckwheat hulls for bedding originated in Asia, particularly in Japan, where they have been used for centuries.
Benefits of Buckwheat Pillows
Excellent Support: One of the key advantages of buckwheat pillows is their ability to provide firm and consistent support. The hulls conform to the shape of your head and neck, distributing weight evenly, which can help reduce pressure points and alleviate discomfort associated with an improper sleep position. This support is especially beneficial for people with neck and shoulder pain, as well as those who suffer from tension headaches.
Adjustable Firmness: Buckwheat pillows allow you to customize the firmness to your liking. Simply add or remove hulls until you achieve your preferred level of support. This flexibility makes buckwheat pillows suitable for a wide range of sleep preferences.
Breathability: Buckwheat hulls create natural air pockets, allowing for excellent airflow. This breathability helps regulate temperature and moisture, preventing the pillow from becoming too hot and preventing perspiration during sleep.
Hypoallergenic: Unlike traditional pillows, buckwheat pillows are naturally hypoallergenic. The inhospitable environment created by the hulls discourages the growth of dust mites and other allergens, making them an excellent choice for allergy sufferers.
Durability: Buckwheat pillows are known for their longevity. The hulls don't compress or break down over time, so you won't need to replace your pillow as frequently as traditional ones.
How Buckwheat Pillows Work
The structure of a buckwheat pillow is simple yet effective. The hulls move independently, allowing you to shape the pillow to your desired form. When you lay your head on the pillow, the hulls shift to cradle your head and neck, offering exceptional support. As you move during the night, the hulls adjust to your new position, ensuring continuous comfort and support.
Caring for Your Buckwheat Pillow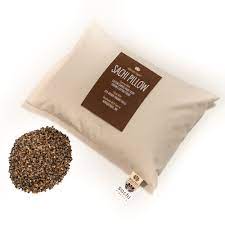 Maintaining a buckwheat pillow is relatively easy. Here are some care tips:
Regularly fluff and shake your pillow to redistribute the hulls and maintain its shape.
Spot clean the outer cover as needed and ensure it's completely dry before reassembling your pillow.
Replace the buckwheat hulls every couple of years to maintain optimal support.
Conclusion
thank you to read the passes with patient. I think Buckwheat pillows will be better choice of you.
Buckwheat pillows are a unique and innovative option for those seeking a restful night's sleep. With their natural materials, adjustability, and supportive properties, they offer a plethora of benefits that can improve sleep quality and overall well-being. Whether you're dealing with neck pain, allergies, or simply seeking a more comfortable night's rest, a buckwheat pillow may be the solution you've been searching for. Explore the world of buckwheat pillows and experience the sleep revolution for yourself. Your body and mind will thank you for making the switch to this extraordinary bedding option