Introduction :
There are difference type of Pillow in the Market. The latex pillow is the most popularity of them.
We spend a significant portion of our lives sleeping, and the quality of our sleep can profoundly impact our overall well-being. The right pillow plays a crucial role in achieving a good night's sleep, and one such option gaining popularity is the latex pillow. In this article, we'll explore the world of latex pillows, their benefits, and why they might be the key to your next restful night's sleep.
What Is a Latex Pillow?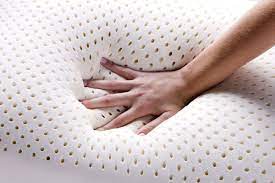 Latex pillows are made from natural or synthetic latex, a resilient and supportive material that comes from the rubber tree. These pillows are designed to offer an optimal balance of comfort and support, ensuring that your head and neck are properly aligned as you rest. They are available in various shapes and sizes, catering to different sleeping preferences.
Benefits of Latex Pillow :
Supportive Comfort: One of the standout features of latex pillows is their exceptional support. Latex conforms to the shape of your head and neck, helping to maintain proper spinal alignment. This support can alleviate neck pain and reduce the likelihood of waking up with a stiff neck or shoulders.
Durability: Latex pillows are known for their durability. They can last much longer than traditional pillows filled with materials like feathers or down. While latex pillows may have a higher upfront cost, their longevity can make them a cost-effective choice in the long run.
Hypoallergenic: Natural latex pillows are hypoallergenic and resistant to dust mites, mold, and other allergens. If you suffer from allergies or asthma, a latex pillow may be an excellent choice, as it can help you breathe easier during the night.
Cool and Breathable: Latex is a breathable material that doesn't trap heat like some other pillow fillings. This cooling effect can be especially appealing to those who tend to sleep hot, ensuring a more comfortable night's rest.
Noise-Free: Unlike pillows with inner springs or some memory foam options, latex pillows are virtually noiseless. They won't produce any squeaks or creaks as you adjust your head during the night.
Eco-Friendly: Natural latex is sourced from rubber trees, which are a renewable and sustainable resource. This makes latex pillows an environmentally friendly choice.
Customizable Support: Some latex pillows come with adjustable inserts or are available in different firmness levels, allowing you to tailor your pillow to your personal preferences.
Choosing the Right Latex Pillow :
When selecting a latex pillow, there are a few factors to consider:
Natural vs. Synthetic: Natural latex pillows are more eco-friendly and durable, but they can be pricier. Synthetic latex pillows are typically more affordable, but they might not offer the same longevity or eco-friendliness.
Firmness: Determine the level of firmness you prefer. Some latex pillows are soft and plush, while others are firmer. Your choice should align with your sleep position and personal comfort preferences.
Pillow Shape: Latex pillows come in various shapes, including standard, contour, and cervical. The right shape for you depends on your sleeping position and neck support needs.
Breathability: If you tend to sleep hot, look for latex pillows with enhanced breathability features to keep you cool during the night.
Conclusion :
Thank you very much to read the passes with patient. Now you can choose your best Latex pillows
A good night's sleep is essential for overall health and well-being, and your choice of pillow can make a significant difference. Latex pillows offer a unique combination of support, comfort, and durability, making them a worthy investment for anyone seeking a restful night's sleep. With their hypoallergenic properties, eco-friendliness, and customizable options, latex pillows are becoming an increasingly popular choice in the world of bedding. If you're ready to enhance your sleep quality, consider making the switch to a latex pillow and experience the difference for yourself. Your mornings may just become brighter and more energized, thanks to this supportive and eco-friendly sleep solution.