Introduction
There are many kinds of pillow on the Market, Here I will describe about the Blissful Comfort of Layla Kapok Pillows.
When it comes to achieving a good night's sleep, the right pillow can make all the difference. Layla Kapok Pillows have been gaining attention and praise for their exceptional comfort and unique materials. In this article, we will delve into the world of Layla Kapok Pillows, exploring their features, benefits, and why they have become a popular choice among those seeking the perfect night's rest.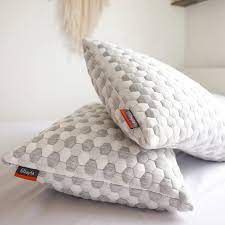 The Natural Elegance of Kapok
Layla Kapok Pillows are known for their use of a natural and sustainable material called kapok. Kapok is a silky fiber derived from the seed pods of the kapok tree (Ceiba pentandra), which is native to tropical rainforests. This material has been used for centuries due to its remarkable qualities, and Layla has harnessed its potential to create a luxurious pillow with a unique touch.
Hypoallergenic: Kapok is hypoallergenic, making it an excellent choice for those who suffer from allergies or have sensitive skin. It naturally repels dust mites, mold, and other allergens, contributing to a cleaner and healthier sleep environment.
Breathability: Kapok fibers are exceptionally breathable, allowing air to circulate through the pillow. This feature helps regulate temperature, keeping you cool in the summer and warm in the winter, which is crucial for a restful night's sleep.
Eco-Friendly: Layla Kapok Pillows are environmentally responsible because kapok is a sustainable and renewable resource. The kapok tree does not require harmful pesticides or synthetic fertilizers to grow, making it a planet-friendly choice.
Comfort: The silky, fluffy nature of kapok fibers gives Layla Kapok Pillows a comfortable and supportive feel. They have a unique blend of softness and resilience, ensuring that your head and neck are properly cradled while you sleep.
Dual-Sided Design for Customized Comfort
One of the standout features of Layla Kapok Pillows is their dual-sided design. Each pillow features a Soft and a Supportive side, offering the versatility to choose the firmness level that suits your preference. This adaptability is ideal for accommodating various sleeping positions and individual comfort needs.
Soft Side: The Soft side of the Layla Kapok Pillow provides a gentle, cloud-like experience, perfect for those who enjoy a plush and snuggly feel. It's ideal for side sleepers and individuals who prefer a softer pillow.
Supportive Side: On the flip side, the Supportive side offers a slightly firmer surface, providing better support for back and stomach sleepers. It helps maintain proper spinal alignment, reducing the risk of waking up with neck or back pain.
Maintaining Your Layla Kapok Pillow
Layla Kapok Pillows are designed to be low-maintenance and easy to care for. The removable, machine-washable cover makes cleaning a breeze, and the pillow's kapok filling is naturally resistant to dust mites and other allergens, reducing the need for frequent cleaning. To ensure the longevity of your pillow, simply fluff it regularly to maintain its shape and loft.
Conclusion
Thank you for reading the Article with patient. Now you choose your nice Layla Kapok Pillows
A good night's sleep is invaluable, and Layla Kapok Pillows have quickly become a sought-after solution for those seeking enhanced comfort, support, and an eco-friendly option. With their innovative use of kapok, dual-sided design, and commitment to sustainable materials, Layla Kapok Pillows offer a luxurious and rejuvenating sleep experience. If you're in search of a pillow that combines the best of comfort and sustainability, Layla Kapok Pillows may just be your perfect match. Experience the blissful comfort they offer and transform your sleep into a dreamlike experience.