Hotel pillows are exceptionally comfortable due to their high-quality materials and superior craftsmanship. With a focus on providing a luxurious sleep experience, hotels invest in pillows that offer optimal support, softness, and durability, resulting in a restful night's sleep for guests.
These pillows often feature a combination of down feathers, memory foam, or synthetic fibers that provide the perfect balance of comfort and support. Additionally, hotels typically use pillow protectors and high-quality pillowcases, ensuring cleanliness and maintaining the pillow's overall comfort.
Overall, the attention to detail and commitment to guest satisfaction make hotel pillows so remarkably comfortable.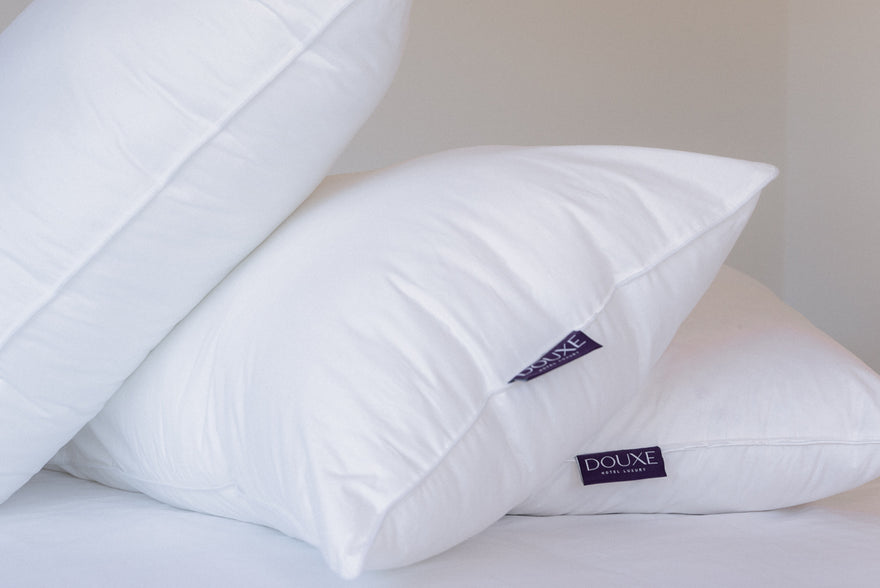 Credit: douxestore.com
Materials Used In Hotel Pillows
Hotel pillows are known for their exceptional comfort, which can be attributed to the materials used in their construction. One popular choice is feathers and down, which provide a soft and luxurious feel. The combination of these natural materials allows the pillow to conform to the shape of the head, providing optimal support and cushioning.
Alternatively, memory foam pillows are also commonly used in hotels. This material is designed to respond to body heat and pressure, contouring to the shape of the head and neck. It offers excellent support and helps relieve pressure points, ensuring a restful sleep.
Microfiber pillows, on the other hand, are made from ultra-fine synthetic fibers. These pillows are hypoallergenic, lightweight, and breathable. They provide a soft and plush feel, similar to down, but without the use of animal products.
Polyester fill pillows are another popular choice in hotels. This synthetic material is affordable, hypoallergenic, and easy to care for. Polyester fill offers a medium level of support and is known for its durability and resilience.
Construction Of Hotel Pillows
Hotel pillows are renowned for their exceptional comfort, and this can be attributed to their unique construction. One common construction technique is the baffle box construction. This design involves creating small fabric compartments within the pillow, which helps to prevent the filling from shifting and ensures consistent support throughout. The baffle box construction allows the pillow to maintain its shape, providing optimum comfort.
Gusseted edges are another important feature of hotel pillows. These are additional panels of fabric that are sewn into the edges of the pillow, creating a three-dimensional structure. The gusseted edges not only enhance the pillow's appearance but also provide extra loft and support, contributing to the overall comfort.
Furthermore, hotel pillows are known for their durability, and this is often due to double-stitched seams. The seams are reinforced with double stitching, which adds strength and prevents the filling from escaping. This ensures that the pillow remains in excellent condition, even with continuous use.
Plushness And Fluffiness
Hotel pillows offer unparalleled comfort due to their plushness and fluffiness, creating a cozy haven for a restful night's sleep. Their luxurious texture provides ultimate relaxation and support, ensuring a memorable and comfortable stay.
The plushness and fluffiness of hotel pillows can be attributed to their high-quality filling. Unlike regular pillows, hotel pillows are designed with loftier fibers that provide enhanced comfort and support. The use of premium materials ensures that the pillows maintain their shape and softness for a more extended period.
Hotel pillows often contain hypoallergenic and breathable fillings, such as polyester or down-alternatives, which contribute to a luxurious sleeping experience. These fillings offer superior cushioning while allowing air to circulate freely, keeping the pillow cool and ensuring a fresh feeling throughout the night.
Additionally, hotel pillows are typically constructed with a higher thread count fabric cover, adding a touch of elegance while providing durability. The combination of high-quality fillings and luxurious covers creates a soft, cloud-like sensation that makes hotel pillows incredibly comfortable.
Benefits of Hotel Pillows
1. Enhanced comfort and support
2. Long-lasting shape and softness
3. Hypoallergenic and breathable fillings
4. Cooling properties for a fresh feeling
5. Elegant and durable fabric covers
Support And Contouring
Hotel pillows are known for their exceptional comfort, and this is attributed to their unparalleled support and contouring capabilities. One of the key factors behind their comfort is their ergonomic design, which ensures optimal alignment and cradles the head and neck. The pillows are carefully crafted to provide the right combination of softness and firmness, allowing for a restful sleep experience.
A vital aspect of hotel pillows is the use of responsive materials that adapt to the body's shape and movements. These materials efficiently distribute pressure and minimize discomfort, giving a feeling of weightlessness and relief. Moreover, the pillows are designed to promote airflow and breathability, reducing the risk of overheating during the night.
The focus on both support and contouring, along with the incorporation of ergonomic design principles and the use of responsive materials, is what sets hotel pillows apart. These carefully crafted features contribute to unparalleled comfort and ensure a rejuvenating sleep experience for weary travelers and hotel guests.
Breathing And Temperature Regulation
Hotel pillows are renowned for their exceptional comfort, and breathing and temperature regulation play a key role in their design. Breathable fabrics are often used in hotel pillows, allowing air to circulate and preventing heat buildup. These fabrics, made of natural fibers like cotton or bamboo, dissipate excess moisture and help regulate body temperature. The addition of cool-gel technology further enhances the comfort level by providing a cooling effect. These cool-gel inserts are usually integrated within the pillow or as a separate layer, allowing guests to enjoy a refreshing and cool sleeping experience. The combination of breathable fabrics and cool-gel technology ensures a comfortable and temperature-controlled environment, promoting a restful night's sleep for hotel guests.
Regular Fluffing And Repositioning
Hotel pillows are known for their exceptional comfort, and there are a few reasons behind this. Regular fluffing and repositioning of the pillows play a crucial role in maintaining their shape and ensuring optimal support. This process helps to redistribute the filling evenly, preventing clumping. By keeping the pillows well-fluffed, the air circulation is improved, allowing them to remain cool and breathable throughout the night. The continuous flow of air helps to regulate temperature and prevent moisture buildup, making the pillows even more comfortable to sleep on.
Proper Pillowcase Selection
When choosing a pillowcase, it is essential to consider the material it is made of. Opting for pillowcases made from natural fibers can significantly enhance your sleeping experience. Natural fibers such as cotton and silk offer numerous benefits, including breathability, softness, and durability.
| Natural fibers | Hypoallergenic materials |
| --- | --- |
| Cotton | Microfiber |
| Silk | Bamboo |
| Linen | Tencel |
These natural materials allow air to circulate, preventing sweat buildup and providing a cooling effect throughout the night. They also have hypoallergenic properties, making them ideal for individuals with allergies or sensitivities. The smooth texture of silk can reduce friction on the skin and hair, preventing wrinkles and bedhead.
For those who prefer synthetic options, pillowcases made from microfiber, bamboo, or Tencel offer similar benefits. These materials are known for their softness, moisture-wicking capabilities, and resistance to allergens.
Cleaning And Care Tips
Keeping your hotel pillows clean and well-maintained is essential for their longevity and comfort. Follow these washing instructions to ensure your pillows stay fresh:
| Washing Instructions | Dry Cleaning Recommendations |
| --- | --- |
| 1. Check the care label: Most hotel pillows can be machine washed, but it's important to always read and follow the care instructions provided. | 1. Dry cleaning: If your hotel pillows have a delicate cover or filling, it's best to opt for professional dry cleaning to avoid any damage. |
| 2. Use a gentle detergent: When machine washing, use a mild detergent specifically designed for delicate fabrics or pillows. Avoid using bleach or harsh chemicals. | 2. Spot clean: For small stains or spills, spot cleaning with a gentle fabric cleaner can be effective. |
| 3. Machine wash on a delicate cycle: Place your hotel pillows in the washing machine, ensuring there's enough space for them to move freely. Set the machine to a delicate or low-speed cycle with a cold or lukewarm water setting. | 3. Air drying: After spot cleaning or dry cleaning, allow your hotel pillows to air dry completely. Avoid using high heat or direct sunlight, as it can damage the fabric or filling. |
| 4. Dry thoroughly: Once the washing cycle is complete, remove the pillows from the machine and check for any remaining moisture. If necessary, repeat the drying process until they are completely dry. | 4. Fluff regularly: Regardless of the cleaning method used, regularly fluff and reshape your hotel pillows to maintain their loft and comfort. |
By following these cleaning and care tips, you can ensure that your hotel pillows remain clean, comfortable, and last for a long time.
Frequently Asked Questions For Why Are Hotel Pillows So Comfortable,
How Come Hotel Pillows Are So Comfortable?
Hotel pillows are comfortable due to the high-quality materials used, like soft cotton and hypoallergenic fillings. Their plushness is also maintained through regular fluffing and maintenance. The aim is to provide guests a restful sleep experience, ensuring their comfort and satisfaction during their stay.
What Kind Of Pillows Do Most Hotels Use?
Most hotels typically use a variety of pillows to accommodate their guests' preferences. These can include options such as down, memory foam, or polyester-filled pillows. The choice of pillow may vary depending on the hotel's brand, budget, and guest feedback.
What Pillows Do 5 Star Hotels Use?
5 star hotels usually use a variety of high-quality pillows, including feather, down, memory foam, or synthetic fillings, to ensure a comfortable and luxurious sleep experience for their guests.
Why Are Marriott Pillows So Comfortable?
Marriott pillows are so comfortable due to their premium quality materials and design. They are meticulously crafted to provide optimal support and plushness, ensuring a restful sleep experience. Additionally, Marriott prioritizes guest satisfaction, constantly improving their bedding to meet high standards of comfort.
Conclusion
Hotel pillows are renowned for their supreme comfort, making guests feel like they're floating on cloud nine. The attention to detail and plush materials used in their design are the secrets behind their coziness. With quality fillings and luxurious covers, hotel pillows offer the perfect balance of softness and support for a restful night's sleep.
Experience the unrivaled comfort of hotel pillows and transform your sleeping experience into a dreamlike escape.