Dogs lick pillows because they find comfort and familiarity in the scent and texture. Dogs are known for their quirky behaviors, and one such behavior that may leave pet owners puzzled is their tendency to lick pillows.
While it may seem strange to us, dogs engage in this activity for a specific reason. Licking pillows provides them with a sense of solace and familiarity. This behavior is driven by the scent and texture of the pillow, which can be comforting for a dog.
Understanding why dogs engage in this behavior can help dog owners better comprehend their furry friend's needs and provide them with suitable alternatives. We will explore the reasons behind a dog's pillow-licking habit and how to address it.
Reasons Behind This Behavior
There are several reasons behind why dogs lick pillows. One possible reason is that they find comfort and relaxation in doing so. Licking the soft fabric may provide them with a similar sensation to nursing on their mother's fur when they were puppies. It can also be a way for dogs to mark their territory. By leaving their scent on the pillow, they are claiming it as their own. Another motivation for this behavior is seeking attention or affection. Dogs may lick pillows as a way to gain the attention of their owners or to seek comfort when they are feeling anxious or stressed. While this behavior is not necessarily harmful, it is important to provide appropriate alternatives, such as chew toys or interactive play, to redirect their licking behavior.
Possible Behavioral Or Medical Issues
Anxiety or stress: Dogs may lick pillows out of anxiety or stress. It can be a way for them to comfort themselves or self-soothe.
Obsessive-compulsive disorder (OCD): Some dogs develop obsessive-compulsive behaviors, such as excessive licking. Licking pillows could be a manifestation of this disorder.
Allergies or skin irritations: Irritated skin or allergies can cause dogs to lick and chew on various objects, including pillows. It may provide temporary relief or comfort.
Tips To Stop Or Manage Pillow Licking
Does your dog have a habit of licking your pillow? This behavior can be puzzling and frustrating. Here are a few tips to help you stop or manage this behavior:
Provide Alternative Chewing Toys:
Offer a variety of safe and durable chew toys to redirect your dog's attention.
Interactive puzzle toys can also keep your dog mentally stimulated.
Ensure the toys are interesting and engaging to prevent boredom.
Engage In Regular Exercise And Mental Stimulation:
Regular exercise can help release excess energy and reduce the desire to engage in unwanted behaviors.
Provide daily mental stimulation through training sessions, games, and enrichment activities.
Keep your dog occupied and mentally challenged to discourage pillow licking.
Consult With A Veterinarian For Potential Medical Issues:
Excessive pillow licking can be a sign of underlying medical problems such as allergies or gastrointestinal issues.
Consult with a veterinarian to rule out any medical concerns and get appropriate advice.
A professional can provide specific strategies based on your dog's individual needs.
Remember, consistency and patience are key when addressing any behavioral issue. By following these tips and seeking professional guidance, you can help your dog break the habit of pillow licking and promote healthier behaviors.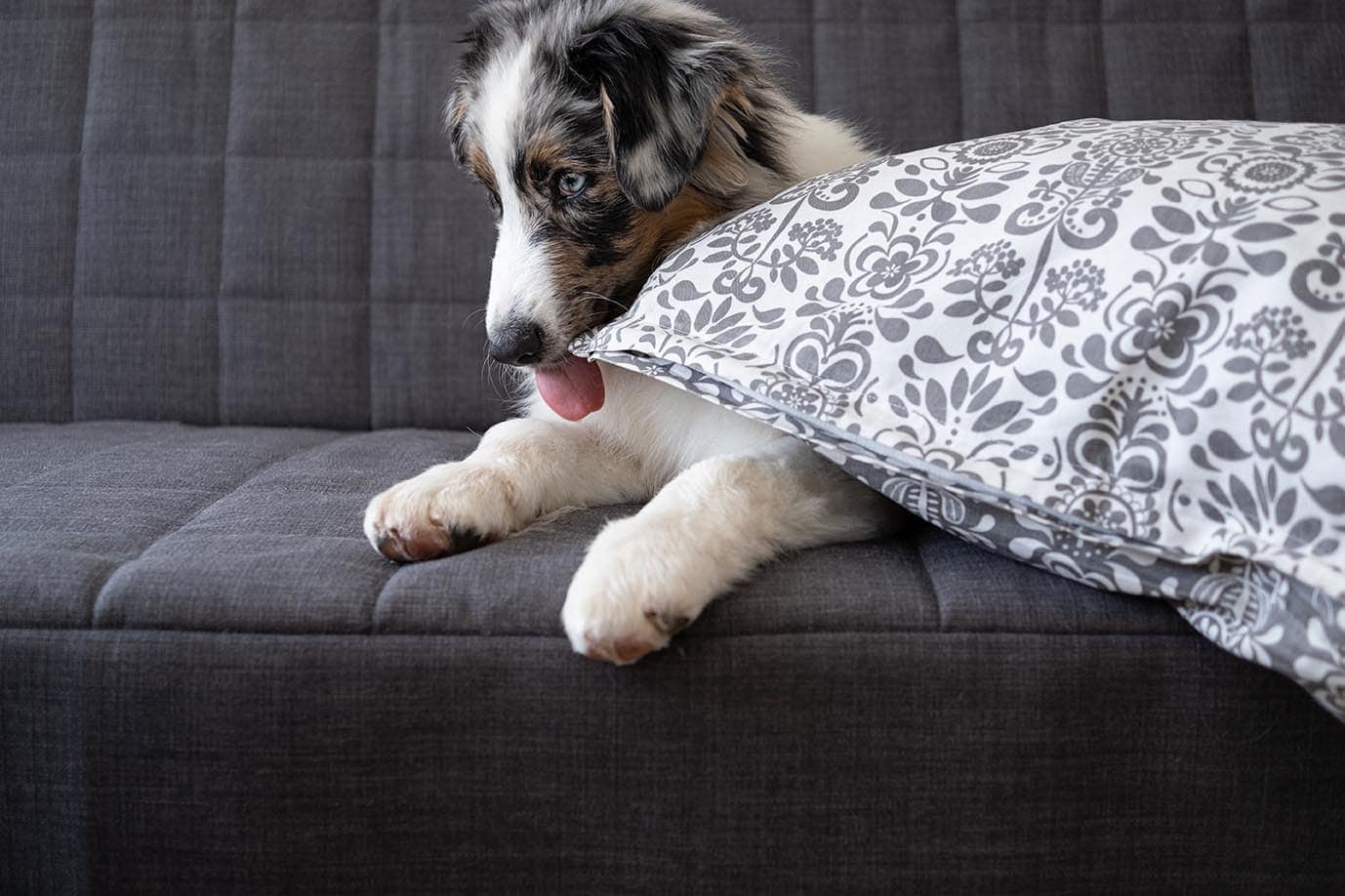 Credit: www.hepper.com
Frequently Asked Questions On Why Does Dog Lick Pillow,
Why Does My Dog Lick Blankets And Pillows?
Dogs lick blankets and pillows as it provides comfort or soothes them, similar to how a baby sucks on a pacifier. It can also be a sign of anxiety, boredom, or a compulsive behavior. Providing appropriate chew toys and addressing any underlying issues can help discourage this behavior.
Why Do Dogs Lick When Lying Down?
Dogs may lick when lying down due to relaxation or comfort. It can be a soothing behavior for them.
Why Does My Dog Lick So Much At Bedtime?
Dogs may lick before bedtime due to soothing or grooming behaviors. It helps them relax and relieve anxiety.
Why Does My Dog Constantly Lick Something?
Dogs lick something because it could be a sign of boredom, anxiety, or a health issue.
Conclusion
In a nutshell, understanding why dogs lick pillows can provide valuable insights into their behavior and needs. From seeking comfort to grooming and marking territory, licking pillows serves various purposes for our canine companions. By observing their body language and providing appropriate outlets for their licking behavior, we can ensure their well-being and promote a harmonious bond between dogs and humans.
Remember, engaging with your furry friend and seeking veterinary advice are crucial in addressing any concerns related to their licking habits.
{ "@context": "https://schema.org", "@type": "FAQPage", "mainEntity": [ { "@type": "Question", "name": "Why does my dog lick blankets and pillows?", "acceptedAnswer": { "@type": "Answer", "text": "Dogs lick blankets and pillows as it provides comfort or soothes them, similar to how a baby sucks on a pacifier. It can also be a sign of anxiety, boredom, or a compulsive behavior. Providing appropriate chew toys and addressing any underlying issues can help discourage this behavior." } } , { "@type": "Question", "name": "Why do dogs lick when lying down?", "acceptedAnswer": { "@type": "Answer", "text": "Dogs may lick when lying down due to relaxation or comfort. It can be a soothing behavior for them." } } , { "@type": "Question", "name": "Why does my dog lick so much at bedtime?", "acceptedAnswer": { "@type": "Answer", "text": "Dogs may lick before bedtime due to soothing or grooming behaviors. It helps them relax and relieve anxiety." } } , { "@type": "Question", "name": "Why does my dog constantly lick something?", "acceptedAnswer": { "@type": "Answer", "text": "Dogs lick something because it could be a sign of boredom, anxiety, or a health issue." } } ] }